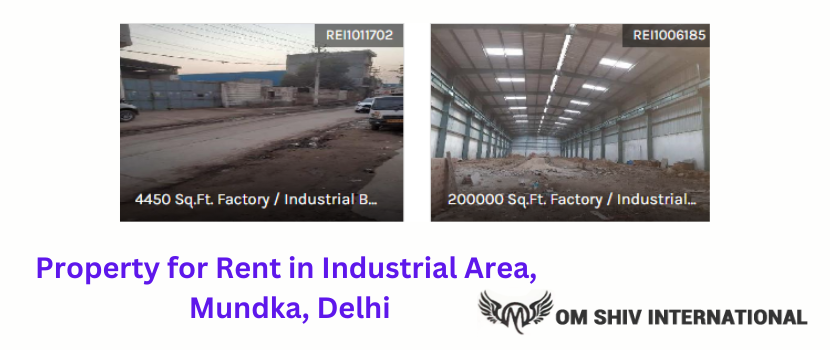 Finding a suitable Factory for Rent Mundaka Delhi that can support and promote future development is one of the main obstacles faced by company owners. This occurs when they attempt to expand their business operations.
Another issue that business owners face is deciding whether to construct the factory themselves or rent it.
For your convenience, we'll look more closely at the many benefits of renting a factory or warehouse in this post. You should have a good knowledge of the benefits by the end of this article and be able to decide which course of action will work best for you and your organisation.
Available Capital:
The first benefit of outsourcing a factory and warehouse is the discretion in capital allocations. Business owners can make better use of their assets because renting a factory or warehouse requires less cash than purchasing or building a new facility.
Additionally, prospective company owners and existing business owners looking to grow are drawn to our rental factories and warehouses. They have the option of investing their funds in equipment, corporate operations, and inventory.
Tax Deduction:
Many individuals do not consider the tax benefit while renting a factory or a warehouse, but it is another financial gain. Entrepreneurs can utilise the rental receipts for a factory and warehouse to offset their company's income taxes because these costs are fully deductible as business expenditures.
However, while purchasing or owning real estate, owners are limited to keeping track of their costs through depreciation costs. Additionally, some expenses, like the cost of buying the property or filling the landing, are not included in their company expenses and are not, thus, tax deductible.
Lesser Repairs and Maintenance Costs:
You are not required to save money on capital expenditures for repairs and maintenance while using this service. Additionally, clients are spared the tedious tasks of changing lightbulbs, unclogging sewage pipes, and repairing damaged floor tiles.
More Time:
Entrepreneurs who want to own a factory or warehouse invariably have to deal with urgent issues, such as selecting the ideal site, obtaining the required building permits, creating blueprints and designs for the factory, hiring a qualified builder, overseeing the project, requesting utilities, hiring technicians to maintain the structure, and more. The time and resources of company owners might be wasted on these depleting and time-consuming concerns.
Therefore, by renting a factory or warehouse from us, you'll have access to a team of specialists who will design, build, and constantly manage your perfect factory and warehouse. As a result, company owners will have more time to devote to both their personal and professional life.
Flexibility to Move:
After a few years, when your company is successful and your present property cannot accommodate expanding production lines or escalating stock and inventory, renting a factory or warehouse is a better option. This ability to manage future growth is available to you while renting.
In essence, renting gives business owners the ability to react quickly to shifting market needs. You can quickly identify the ideal property when renting, whether you're expanding factories and warehouses or changing where your firm is located. You also won't need to worry about your budget, which will definitely increase as a result of buying a new house or extending an existing one.
Each factory or warehouse building project takes at least a year to finish. Business owners are forced to pass up a lot of business chances during this period. However, finding available Factory for Rent Mundaka Delhi, is as simple as conducting a Google search. Given that the building has already been finished by the developers, this sensible option is quicker and more convenient.
As a result, company owners may launch or grow their enterprises promptly and without hindrance. Missing worthwhile business possibilities is not necessary.