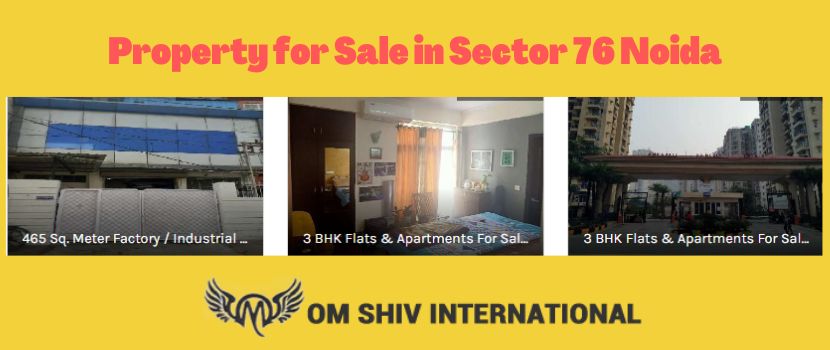 Noida has top-notch residential apartments and homes, major commercial complexes and MNCs from all over the world. Delhi/NCR has emerged as India's fastest-growing region, with people from across the globe moving here for limitless opportunities.
Noida, part of Uttar Pradesh, forms part of the Delhi/NCR region and gets known for high-end residential and commercial projects. Noida has excellent work prospects, clubs, malls and residential areas bound to attract you.
Investing in property in Noida has remarkable profitability due to the high market demand, strategic location and growing infrastructure. The Government has also improved the metro connectivity between Delhi and Noida, along with good roadways has assisted development.
Major Reasons For You To Invest In Noida:-
Streamlined Interconnectivity-
Noida has improved its connectivity with neighbouring cities like Delhi, Gurgaon, Ghaziabad and Faridabad. You can buy 3 BHK flats & apartments for sale in sector 76 Noida and establish a permanent residence there. The Delhi-Noida Flyway connects Noida and Delhi, and the Jewar airport has also prompted rapid growth in Greater Noida.
Surge In Job Opportunities-
Noida and its extension have plenty of job opportunities. Large IT offices and newly opened companies in Noida are looking for employment. The metro connectivity to Greater Noida has prompted IT companies open offices and avail the infrastructure at reasonable prices.
Trade & Retail Hubs In Noida-
Noida has a variety of retail options with local markets and modern, contemporary malls. Local marketplaces offer affordable accessories, clothing, footwear, and home decor. You can also get various delectable street food alternatives to treat your tastebuds. There are also well-known shopping centres with theatres, nightclubs, upscale restaurants and all the premium brands for different amenities.
A Huge Concentration Of Employers-
Noida, the commercial hub of India, has numerous well-known businesses and manufacturing companies. Noida manufactures the largest number of smartphones in the country and has the fourth-largest IT-BPO hubs.
Well-known businesses like Rockwell, Adobe Systems and Exl have also set up offices in Noida. Indian businesses like The Times of India, Everest Industries Ltd. and Dish TV Ltd. have offices here.
Excellent Planning & Design Of The City-
The city has many renowned educational institutions, including DPS and GD Goenka Global School. You can purchase 3 BHK flats & apartments for sale in sector 76 Noida to access great colleges and schools. You also have world-class medical institutions and hospitals all across Noida.
Reputable financial institutions and banks also have branches across Noida city. The city also has parks and open spaces to unwind and relax, adding to the demand to invest in property.
Superb Return On Investment-
The Greater Noida region offers decent ROI according to the different developments in this region. The proposed infrastructure and Government initiatives have ensured good ROIs. With all the features, Noida has become an excellent real estate destination.
Noida has become a trusted real estate investment destination as an urbanised city. It has developing infrastructure, an upcoming international airport and affordable housing, making it a sought-after location for investment.